If you work in marketing, communications, or public relations, you've surely heard of the buyer persona, which is both a concept and a tool, as well as a necessary practice for creating effective marketing and communications strategies. And, although much has probably already been written on the subject, it never hurts to have a little review to keep us tuned in. So, in this article, you will find the definitive answer to what a buyer persona is, how to create one, and why you need it to optimize your brand's communications.
1. What is a buyer persona?
The buyer persona, a concept from Inbound Marketing, is a semi-fictional representation of the "ideal customer" of a brand. In other words, it is the personification of the target audience through a single profile defined by their interests, needs, preferences, buying habits, personality traits, demographic data, and other relevant information. This is useful for knowing them in-depth and, consequently, creating more effective marketing and communication campaigns, making the right choices for each phase of the buying cycle, and aiming specifically at that person (and the audience it represents).
However, creating a buyer persona is not an act of imagination but rather a research work that starts with factual information about existing or potential customers. What comes next is the teams' ability to get the right insights from this information and transform them into inputs for better marketing and communication strategies.
A buyer persona is, then, an impressive communication tool. It summarizes all the info of the ideal customer as if it were a real and particular person who comes to represent all the potential customers of a brand, those who you want your messages to reach, and from whom you expect to get a timely response.
2. How to create a buyer persona?
The purpose of creating a buyer persona is to really know the audience to whom a brand wants to communicate, for which it is very useful to create a character that gathers all the key information. This includes primary demographic data such as gender, age, location, educational background, profession, etc. It also includes psychological matters (sometimes called psychographic data) such as aspirations, goals, hobbies, interests, priorities, and what makes them happy, besides work, roles, dreams, challenges, and daily habits. Of course, information about their online behavior cannot be overlooked, such as their favorite social media, e-commerce platforms, search engines, content, more commonly used devices, etc.
And where can you get the information to create your buyer persona? Well, the best buyer personas are based on a mix of market research, the brands' insights about their customers, existing customer databases, and social research tools (such as interviews, surveys, and so on).
With all of this, you can create a semi-fictional character, a sort of avatar that represents potential consumers and differentiates them from other people within the market. To do this, the first thing is to assign a name and a personality. The second is to create a dashboard to start working with.
Here is a template that will make it easier to create your buyer persona. Of course, the information may vary depending on your business goals.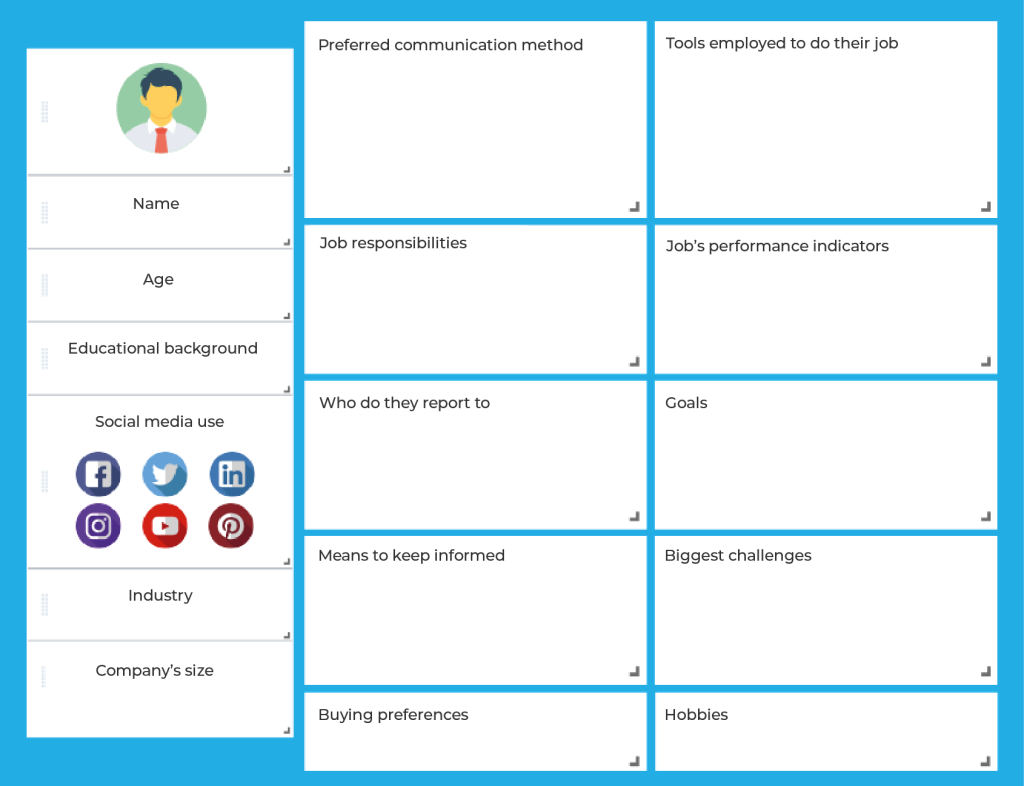 3. Why do you need a buyer persona?
No brand grows without proper communication and all good communication starts from a deep knowledge of the audience. Therefore, creating a buyer persona is the minimum requirement for effective messages and relevant content capable of captivating your target audience, having the right impact, and inducing the response (in terms of behavior) you need to achieve your communication goals. In other words, it allows you to sharpen the focus of your marketing and communication strategies while optimizing time and resources, as they are easy to define and remember by the team.
Without a buyer persona, your strategies or campaigns may get lost in the digital ecosystem and you may end up publishing content in Spanish for those who only understand English, promoting meat products to a group of vegetarians, offering a new feminine hygiene product to men, or something like that. Here is a list of things that you need a buyer persona for:
Establish the type of content you need to create, according to your goals.
Define the tone and style of communication.
Improve the design of your marketing and communication strategies.
Define the topics you should write about.
Understand where potential customers look for this information and how they want to get it.
Thus, once created, teams can invest their time, resources, and skills in winning the attention and intentions of their buyer persona and the entire audience it represents. In short, this is a fundamental task for strategy definition, content creation, email marketing campaigns, product design, lead tracking, sales, and any other activity that depends on customer acquisition and retention.
You may also need to read: How to build a lasting relationship with your customer using Inbound Marketing?
4. How to use a buyer persona?
As we mentioned before, the creation of a buyer persona is a crucial step in any effective strategy or campaign: we create buyer personas to make sure that the right messages reach the right individuals, and thus have greater chances of success; we segment audiences to segment communications. But how do we get the most out of it?
The duty of creating a buyer persona never ends, it is permanent. So, it is important that each team define when and how to do it, considering that it is often necessary to create a specific one for each segment, product, service, or even campaign. For this, many brands establish one or a few global buyer personas, and several secondary ones according to each campaign.
With this, you will be able to put together a strategy depending on the attributes of your buyer personas, creating different types of messages and actions to impact each of them efficiently. Here is an example of how to use your buyer personas to build more effective communication strategies and campaigns: instead of encompassing our entire conversation by aiming at everyone with the same message in the same channels, we recommend segmenting your messages to obtain better results and generate more sales.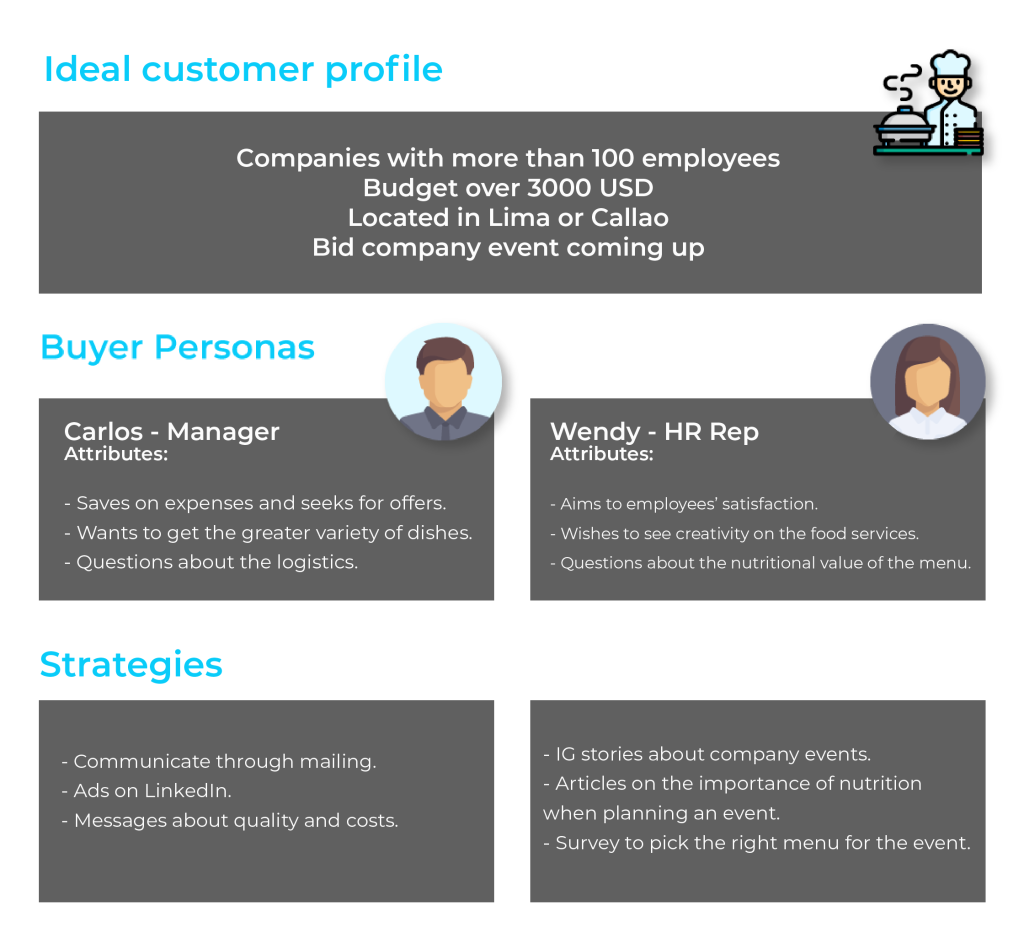 You may also need to read: How do I get to be on the first results page os Google? 5 benefits you may get. 
5. Our master guide to buyer persona: free e-book
Now that you know that the buyer persona is a concept, a practice, and a key tool to create effective communication and marketing campaigns, we invite you to download our definitive guide to creating a buyer persona and get it right.
If you want to know how we do it at Milenium Group or if you need to optimize your brand communications, reach out to us.